Description
The perfect actuator for gates of any size and self-supporting.
Wheel power: 66 Kg singleph / 53 Kg threeph
Power supply: 500 W singleph / 370 W threeph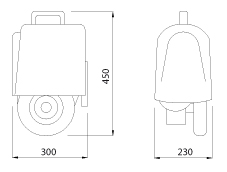 For more info about the product, contact us.
Download technical data in pdf >>
Reducer type CASIT 33/C with motor three-phase 370 W or single-phase with capacitor.
It can be installed on any kind of gate in terms of dimension. The gate must be self-supporting and with electroserrure.
The rotation is possible with a wheel made of rubber. In the case of power failure raises the group via its handle and directly controls the gate.
The operator is predisposed; complete of electronic control-box for the complete compliance at UNI 812 of the all safety devices.
The reducer is self-locking. To avoid wheel slipping an electrolocker is highly recommended.
It is possible to open at 360°thanks to the motor's limit switches along with the proper control box.
Optional:
Kit for telescopic soil downhill
Telescope Kit with spring
Technicals data
2 variations available
MC300/R
MC300/RC
MC300/RCM
Power supply
500 W monofase
370 W trifase
Current
Output
Condenser
Thermic protection / insulation
Protection degree
Time switches / opening time
Forza spinta ruota
66 Kg monofase
53 Kg trifase
Velocità della ruota
16 m/1′
Spinta
Funzionamento
Motore
Trifase
Mec71
Mec80
Rounds motor
Structure
Max torque
75 Nm monofase
60 Nm trifase
Operating temperature
Working cycles
Reductio ratio
Weight of operator
Anta (lungh. max.)
Measures (lenght x widht x height)
Emergency release
Lubrication