Description
Arm actuator that can be used for large pillars. Safe, strong, reliable, noiseless, with key release.
Size max. leaf: 1.6 meters
Version: 230V ac or 12V dc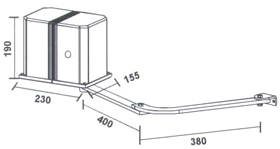 For more info about the product, contact us.
Download technical data in pdf >>
Gear-motors for outdoor use, for the automation of swing gates with leaves up to 1,6 meters each.
Suitable for big dimensioned pillars with maximal distance between the hinges' axis and the gate's corner of 30 cm.
Easy guided installation, with adjustable accessories and brackets. Incorporated release key.
Pivoted arm transmission adjustable and anti-shearing safety.
The perfect integration of its components ensures the greatest quietness.
It is designed for a residential use by using a die-casting structure made of quality aluminum, stainless steel, bronze and steel.
The fluid-grease lubrication system and the built-in thermic protection ensure a long-lasting working life.
Technicals data
2 variations available
ARM06
ARM06C
Power supply
230V ac – 50/60 Hz
12V dc
Current
1.2 – 1.7 Amp
0.7 – 9.5 Amp
Output
Condenser
10 µF
Thermic protection / insulation
135°C
Protection degree
Time switches /

opening time

18 sec.
Switch
Limit switches
2 – Electr.
Pressure
280 N
150 N
Operation
Domestic
Motor rounds
1400 g/m
1500 g/m
Structure
Aluminium
Max torque
80 Nm
32 Nm
Operating temperature
–20 + 40 C°
Working cycles
40%
80%
Reductio ratio
 Weight of operator
9,5 Kg
Door (weight and max lenght)
1,60 mt
1 mt
Measures (lenght x widht x height)
Emergency release
yes
Lubrication
Oil