Description
Linear actuator reversible and irreversible version. Safe, strong, reliable, noiseless, with key release.
Max. leaf size: 2 meters
Version: 230V ac (optional 24V dc)
Stroke: 400 mm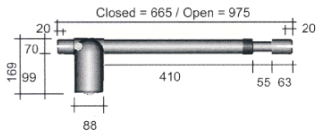 For more info about the product, contact us.
Download technical data in pdf >>
Gear-motors for outdoor use, for the automation of swing gates with wings up to 2 meters and installation kit. Easy guided installation, with adjustable accessories and brackets.
It is designed by using a diecasting structure made of quality aluminium, stainless steel, bronze and steel. Its guide-grease lubri­cation system, the polyester powder-paint, its built-in-heat guard and its drive with self-lubricating worm screw ensure a long-lasting working life in any weather condition with no feed of periodical adjustments.
The locked version ensures the gate locking without an electric-lock, and it comes with a release key.
The perfect integration of its components ensures lowest noise levels.
Reversible model and 24 Vdc available on demand.
Technicals data
3 variations available
MC300/400I SX-DX IRREVERS.
MC300/400I SX-DX REVERS.
MC300/400IDC SX-DX IRREVERS.
Power supply
230V ac – 1 phase – 50 Hz
24V dc
Current
1.2 – 1.7 Amp
0.7 – 9.5 Amp
Output
280 Watt
Condenser
8 µF
Thermic protection / insulation
130° C / Classe F
Protection degree
Time switches /

opening time

21 sec.
Switch
400 mm (500 mm on demand)
Limit switches
Pressure
2300 N
1700 N
Operation
Domestic – endless screw –
Rounds motor
1400 g/m IRREVERS.
900 g/m REVERS.
1400 g/m
Structure
Aluminium
Max torque
Operating temperature
–20 + 40 C°
Working cycles
Reductio ratio
1:27 IRREVERS.
1:18 REVERS
1:27
Weight of operator
5,2 Kg IRREVERS.
7,2 Kg REVERS.
5,2 Kg
Door (weight and max lenght)
250 Kg IRREVERS.
2 mt IRREVERS.
190 Kg REVERS.
2,50 mt REVERS.
250 kg
1,60 mt
Measures (lenght x widht x height)
Emergency release
yes
Lubrication