Description
Irreversible operator for sliding gate. Fan cooled motor for intensive use. Life lubricated.
High performance. Incorporated control unit and manual release.
Maximum weight of the gate: 1.300 / 1.500 Kg
Version: 230 V – 400 V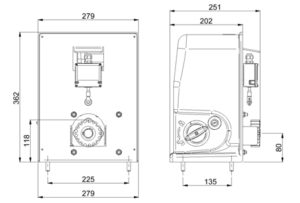 For more info about the product, contact us.
Download technical data in pdf >>
Compact and easy to install operator. Equipped with electrical limit switches and control unit with slowdown and reverse on obstacles. Carter in ABS with handle and key for the manual release or metallic carter of big dimension (MR300/CRM99). Optional external manual release and key (EPAC-6).
Technicals data
2 variations available
SLIDY/S
MR300/CRM99
SLIDY/T
Power supply
230V ac – monofase – 50/60 Hz
400V ac – trifase – 50/60 Hz
Current
1.3 Amp
1,1 Amp
Output
300 Watt
370 Watt
Condenser
12,5 Mf
Thermic protection / insulation
Classe F
Protection degree
Time switches / opening time
9 ml/min. ÷ (pig. M = 4 Z17)
Switches
Limit switches
Electr.
Spinta
350 N
800 N
Funzionamento
Intensivo
Rounds motor
1.400 g/min.
Rounds axis
42/min.
Structure
Control incorporated
SLIDY/I
(Optional = MR300/CRM99)
(Optional = MR300/CRM99)
Senza centrale
SLIDY/S
SLIDY/T
Max torque
12 Nm
30 Nm
Operating temperature
–20 + 70 C°
Working cycles
80%
Reductio ratio
Weight of operator
19 Kg
30 Kg (MR300/CRM99)
20 Kg
31 Kg (MR300/CRM99)
Gate (max weight)
max. 1.300 Kg
max. 1.500 Kg
Measures (lenght x widht x height)
Emergency release
yes
Lubrication
Grasso speciale