Description
Operator for industrial gates: sectional and counterbalanced doors, sliding doors, folding doors intensive use.
Irreversible version.
Noiseless mechanism life lubricated. External release with cable and handle.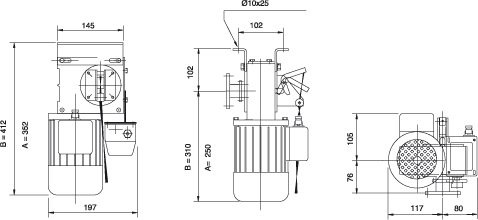 For more info about the product, contact us.
Download technical data in pdf >>
Automatic system available in single phase and three phase, with rotative limit switch and manual release.
Compact and easy to install, emergency manual device with fast lever. Irreversible reducer in aluminium, fan cooled motor with thermal protection.
Technicals data
4 variations available
MR33/SEZ 63 MD
MR33/SEZ 63 TD
MR33/SEZ 71 MD
MR33/SEZ 71 TD
Power supply
230V ac
1 phase – 50/60Hz
230/400V ac
3 phase – 50/60Hz
230V ac
1 phase – 50/60Hz
230/400V ac
3 phase – 50/60Hz
Current
2.5 Amp
1.9 / 1.1 Amp
3.2 Amp
1.8 – 1.1 Amp
Output
350 Watt
370 Watt
370 Watt
400 Watt
Condenser
20 µf
–
25 µf
–
Thermic protection / insulation
Protection degree
45 IP
Time switches / opening time
Switches
Limit switches
4 Elettrico rotativo
Campo lavoro finecorsa
50 giri albero
Spinta
Funzionamento
Intensivo
Rounds motor
40 g/m
Structure
Max torque
25 Nm
35 Nm
40 Nm
Operating temperature
–20 + 70 C°
Working cycles
40%
80%
40%
80%
Reductio ratio
Weight of operator
10,5 Kg
12,5 Kg
Anta (lungh. max.)
Measures (lenght x widht x height)
Emergency release
yes
Lubrication